Good evening everyone! I figured I'd share a project of ours that is coming to a close soon. . .well at least this phase of the project .
The subject car is a 2007 E63 M6, which came to us fairly stock. . .and has undergone a transformation in the past 3 weeks.
Earlier in the year, we did some HRE 890R wheels for a customer, not knowing what would ensue later. Here's a picture after just getting the wheels mounted, while the ride height was still stock on this M6.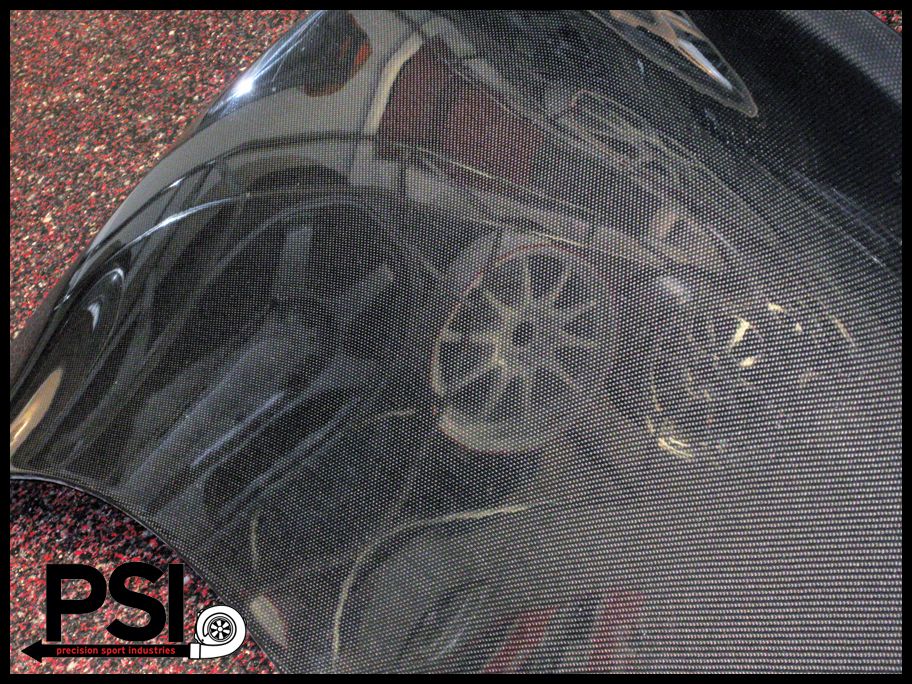 I guess you can say, the mod bug bit, and bit HARD for this owner. KW Variant 3 coilovers were ordered just after getting the wheels on, realizing the M6 was riding more like a 4X4 truck rather than a proper sports/GT car should. Here we are, just wrapping up the install and getting the ride height dialed in.
Now the car is looking great – some nice wheels and the right drop to set them off. We were now done, or so we thought. Next up was ordering a Vorsteiner bootlid; it was time for a little more aesthetic enhancement. Loving the way the CSL trunklid looked on the E46, the customer HAD to have this trunk in carbon fiber for his own car. Just after arriving, here sits the trunk in our lounge.
Now we're waiting to take the trunk to the paint shop, to get it painted Silverstone, and leave the lip of the trunk that pretty plain weave carbon, just like the roof. Change of heart. "How does flat black sound?" asks our customer. He was wanting a change. . .something to give the car a totally new look. Along with wrapping the entire car flat black, we were asked to painstakingly disassemble each wheel bolt by bolt and have the lip, face, and barrel powdercoated flat black to match the car. The wheels were done before the car was, they came out absolutely awesome!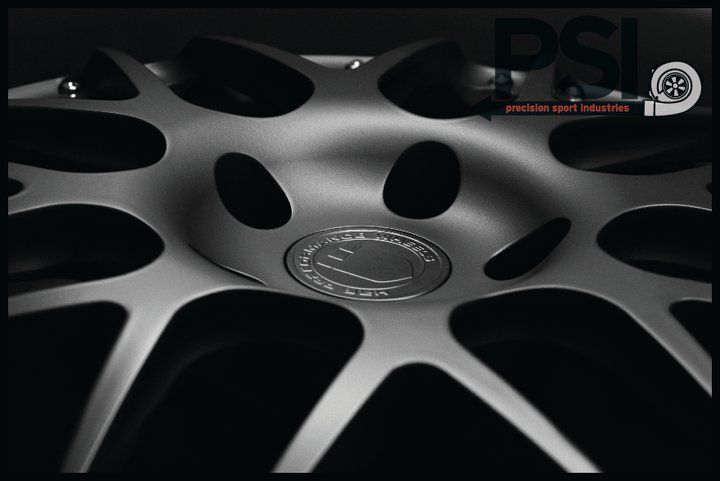 With the wrap nearing completion, we were now ready for a bit more sound from the exhaust system. Something exotic and different; something that would match this project perfect. The customer is a very particular person and had simple requirements from an exhaust system. It must be lightweight, not too loud and boomy, and MUST have fitment 100% perfect – no exceptions. The choice was obvious; Akrapovic. We now had a deadline looming of an upcoming show at our shop, that we really wanted the car to "debut" at. We rushed our order from Akrapovic, and our jaws dropped when it arrived. . .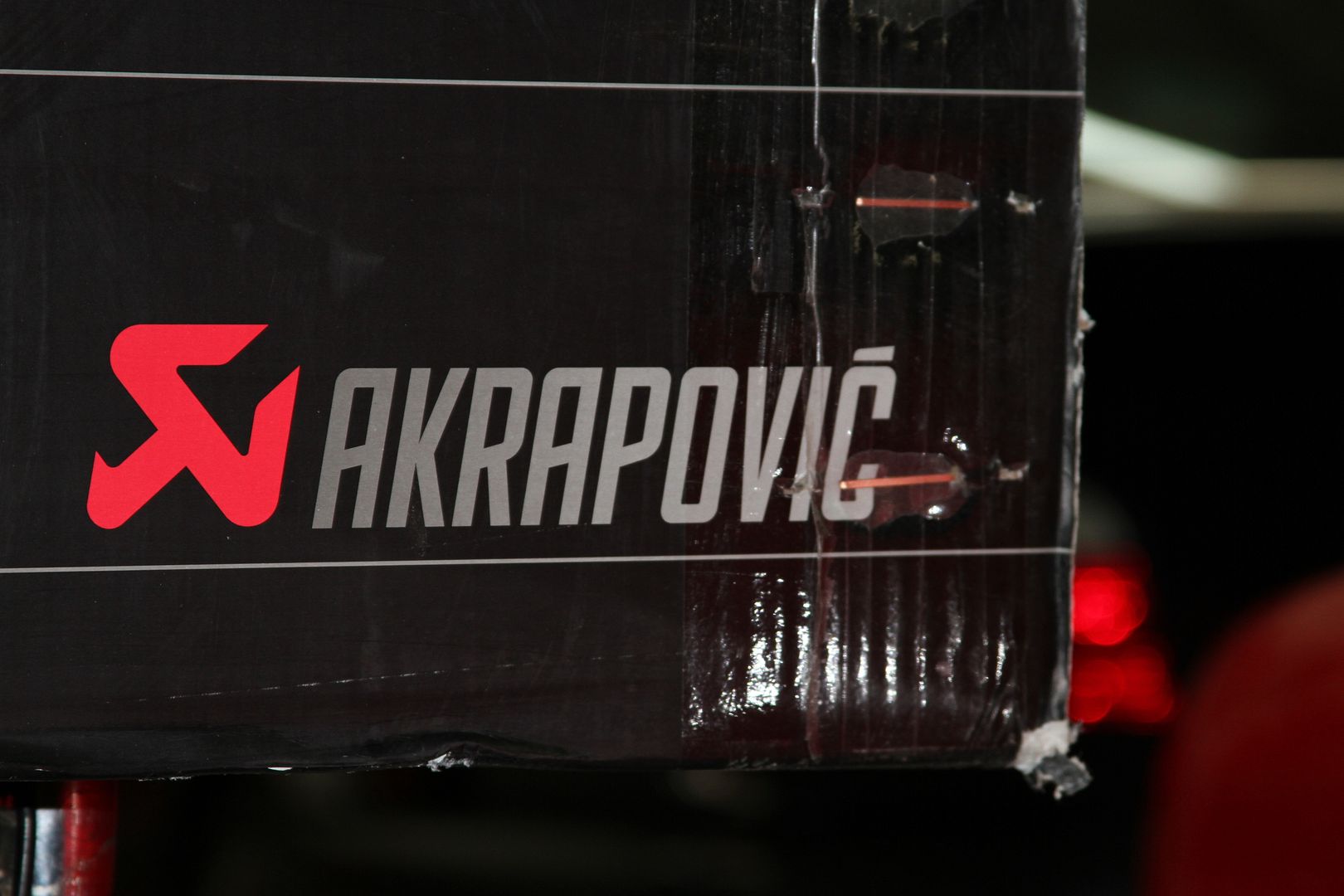 We knew it was a nice exhaust system, we knew it supposedly fits well, and we knew it was all titanium and VERY lightweight. We just didn't know HOW nice, HOW light, and HOW well it fits until opening the box and putting it on the car. This is a "PSI" style exhaust. There's a great deal of pomp & circumstance to installing it. There is special copper anti-seize for all bolts, and ceramic grease for the pipes to fit together. Torque specifications are provided for every single bolt you touch and a very detailed manual explaining everything. Yes, it bolts right on, and we've literally hundreds of exhaust systems without need for instruction, but you just WANT to follow these because you realize. . .it's the way it should be; especially for a premium system like this one.
Here is the view very few will ever see of this exhaust in person. The wrap is visible as well.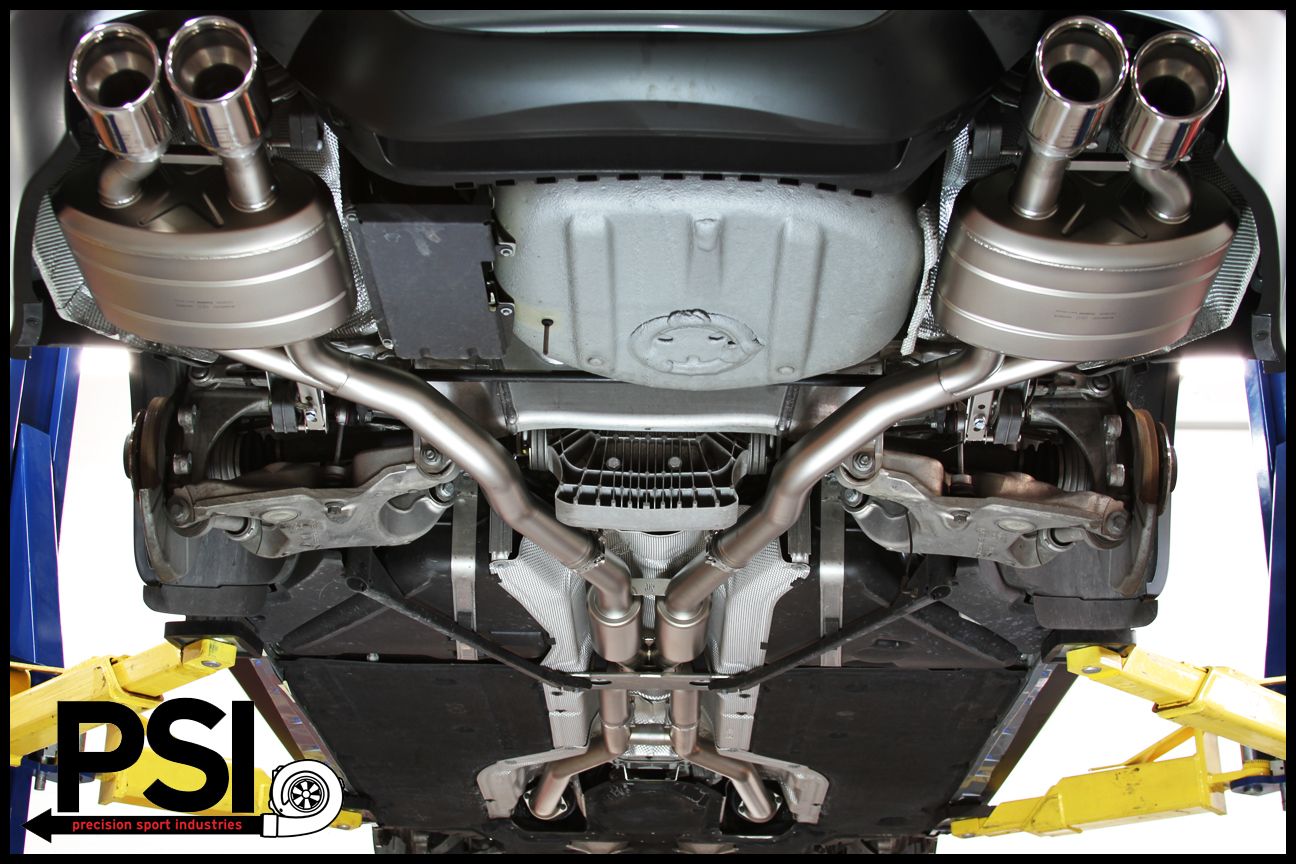 As an even more last minute decision, a Brembo big brake upgrade was fitted just before the wheels went back on. When the car started to go back together from having everything wrapped, the customer told us he was also wanting the LCI lights – headlights, front turn signals, and tail lights to complete the refresh. Here is how we sit today.
The M6 is now a completely different car than the one that came in to begin with, but the project is not yet over. Stay tuned for more pictures and some professional photos of the current configuration.
Comments
comments